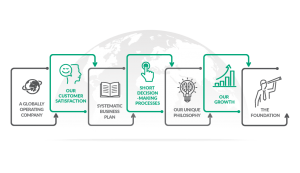 We are a globally operating company that recognises and respects the diversity of cultures.
Our customer satisfaction is our driving force and determines how we run our daily business.
We work according to a systematic business plan and review our tasks and their impact on a regular basis.
Short decision-making processes enable us to act quickly and efficiently and are key to our success.
Our unique philosophy of good value for money is characterised by low administration costs and optimal use of resources in order to avoid overcapacity/waste of resources.
Our growth is shaped by our innovative drive and the regular improvements that go into our company and work processes.
The foundation of our business are strong staff who run the company and continue to lay the groundwork for the future.
---