AJI AMARILLO
(Capsicum baccatum)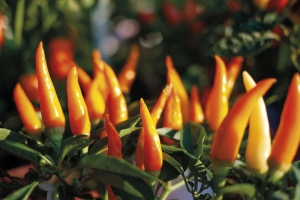 In Spanish, "Aji" means "chili" and "Amarillo" means "yellow", so Aji Amarillo is simply a "yellow chili". Aji Amatillo has been grown in Peru since time immemorial (8000 years – a legacy of the Incas) and is the most popular and widely used chilli in the agro-industry. It is therefore a staple food in Peruvian cuisine.
Aji Amarillo offers a tropical, fruity taste with a raisin aroma, harmoniously spices every dish and colors it with a beautiful yellow tone. Chefs around the world use Aji Amarillo in a variety of flavorful, visually appealing dishes, including ceviches (the national dish of Peru), salsas, sauces, chicken and seafood dishes. The Aji Amarillo can be roasted or baked over low heat to highlight the natural oils that contain most of the flavor and capsaicin, and also have a unique color.
Aji Amarillo, gently ground in PRODERNA ® quality, is the convenience product in the creative food industry and for exotic catering and consumer packs.
We are aware that we are opening new markets with new chilli varieties by making use of the internationalization of eating habits. As a result, Aji Amarillo and Panca are chilli from Peru a part of this process, which influences the eating habits in Europe and thus our innovations in PRODERNA ® tested and audited quality are welcomed by our customers.
---