HABANERO CAROLINA REAPER
(Capsicum chinense)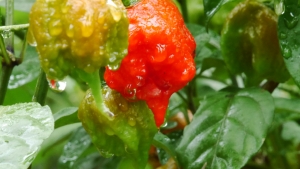 If one is looking for a very hot chilli , you won't find anything more extreme than the Carolina Reaper.
This chili was first awarded the prestigious title of "World's Hottest Chilli" in 2013. To this day, it still holds the Guinness world record for hottest chilli.
The Carolina Reaper has a sweet, fruity taste. When you first bite into one of these chillies you'll taste these flavors before the spiciness. Some people detect hints of cinnamon and even chocolate. When the fruity flavor passes, one will start to feel the intense burn that only the Carolina Reaper can deliver.
We have our Carolina Reaper chillies cultivated by our Mexican partner so we have influence on the whole production process, in particular the quality.
The freshly harvested chillies are gently dried and then ground. In this way, the flavours are almost completely retained. The new Carolina Reaper chili powder sets new standards in terms of taste and heat.
---