HABANERO SCOTCH BONNET
(Capsicum chinense)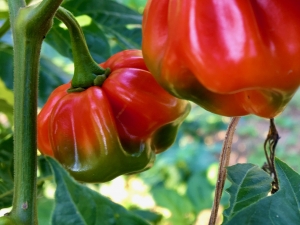 Jamaica is probably most famous for its Reggae music and outstanding track athletes but it's also considered home to the fiery Scotch Bonnet Habanero. It gets its name from the shape of the habanero that with its squashed appearance resembles a Scotsman's bonnet (known as a Tam o'Shanter hat).
The Scotch Bonnet Habanero is often compared to the Habanero Red Savina, since they are two varieties of the same species but with different pod types (with the Scotch Bonnet having a wrinkled top and a flattened base). and piquancy (pungent taste and flavor) which varies quite between the two.
The Red Savina has a fruity, apricot-like flavour and a floral aroma. The Scotch Bonnet isn't quite as hot and is slightly sweeter with a flavour profile that is more reminiscent of tomatoes with hints of apple and cherry while also being slightly smaller. The Scoville Heat Unit (SHU) for the Red Savina comes in at 200,000 – 300,000 and the SHU for the Scotch Bonnet is 100,000 – 140,000.
Scotch Bonnets add flavour to many different cuisines and dishes worldwide and are frequently found in hot sauces and condiments. These chiles are most popular in Barbados Cayman, Guyana, Grenada, Haiti, Jamaica, Suriname, Trinidad. However, due to our innovative and creative processing and marketing know how PRODERNA® Scotch Bonnet are becoming more and more popular, especially well accepted as powder due to manifold  applications.
PRODERNA® Scotch Bonnets are cultivated on our own plantation in origin and follows 100% GAP (Good Agricultural practice). The fully matured fruits are carefully harvested by hand and afterwards collected and transported in small baskets for processing i.e. cleaning, washing, cored, dried and cut. All work is done by native workers with native material to create jobs and to make use of the natural resources for protection of nature and environment.
The Scotch Bonnet – cut in stripes, dried and packed in cartons – are delivered to us in Hamburg in lots of 1-2 tons by airfreight. On receipt steam sterilisation treatment is undertaken and the goods are crushed according to customer's requirements – our standard sizes are 1-3 mm and 3-5 mm as well as powder.
PRODERNA® Scotch Bonnet Habanero are analysed and certified by accredited laboratories in Hamburg to meet the highest quality requirements of our international clients in the food industry.
---