SERRANO
(Capsicum annuum)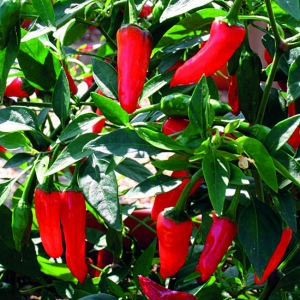 The Serrano Chilli is the classic of Mexican cuisine and is therefore used more in the homeland than the jalapeno, which is better known abroad. The origins of the Serrano are the Mexican states in the mountainous region of Puebla and Hidalgo. Sierra means mountain in Spanish, therefore derived the designation of origin Serrano.
The mild sharpness with a touch of sweetness allows the Serrano Chilli to refine daily dishes without affecting the natural taste too much. In Pueblo Serrano chillies are often processed into desserts. This has a long tradition and has your anger among the natives. How Mole Poblano made a spicy sauce with  Serrano chilli, nuts and chocolate, legendary is also the nut sauce "Chiles en Nogada."
We are aware that we are opening up new markets with new chilli varieties by harnessing the internationalisation of the food consumption. As a result, the Serrano Chili from Mexico is part of this process that influences the eating habit in Europe today and thus uses our innovations in PRODERNA ® tested and audited quality in the chocolate industry in many ways.
---