OUR CONCEPT AT A GLANCE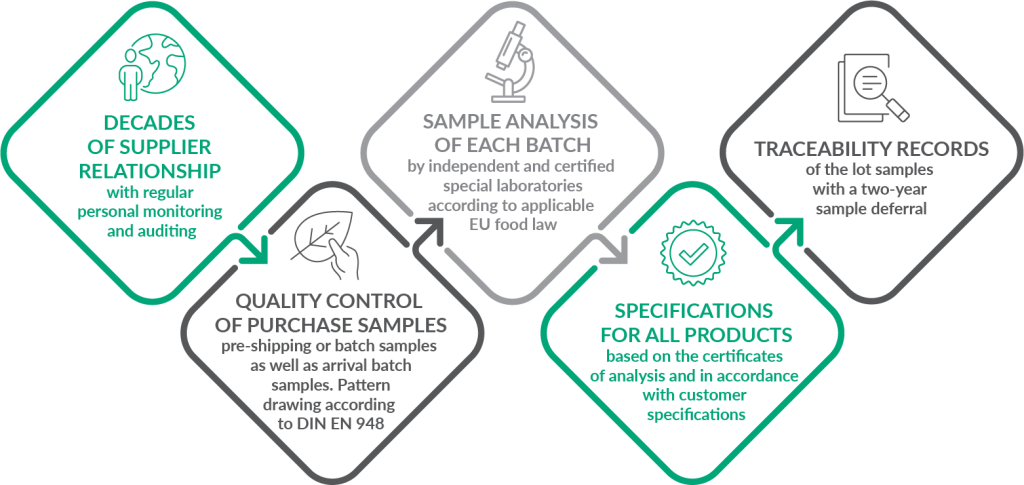 Since the foundation of J.H. Lüttge GmbH in 1990 we have the unrestricted claim to offer our customers excellent quality. That is why quality at all stages of the manufacturing process of our products is an essential part of our corporate philosophy and has an extraordinarily high value in our daily thinking and acting. We monitor and audit strictly and personally all processing processes from cultivation and producers to the final product, whereby we always focus on the needs of our customers as well as the necessary details of the country of origin. This strategy requires extensive travel, which is always an important part of our activities

Based on our experience through a quality control that has been carried out for many years with documentation and evaluation of our analysis results, we have created specific risk profiles for the various products. This resulted in a highly specialized control plan in which not only the purchase samples but also shipping samples from the country of origin and goods received are checked in our warehouses. After drawing samples in accordance with DIN EN 948, the samples are sent for laboratory analysis. Independent and certified special laboratories are used for the tests. This is how we ensure that the latest technology and maximum methodological competence are available at all times.

In addition to testing different product quality features, we pay particular attention to examining any plant residues and impurities that may be present. The internal limit values specified by our quality assurance, which must be undercut for each test parameter, often show stricter standards than the already very strict legal requirements of food law.

To ensure and further develop quality standards, the J.H. Lüttge GmbH established a quality management system years ago. Processes for quality assurance and improvement are defined here.
Compliance is regularly audited. All processes meet the requirements of the Food Hygiene Ordinance, which we have anchored in our HACCP concept. For us, special challenges are always new product developments that respond to the requirements of our customers and the international market trend.
---